Younger children need more iron than older children do because iron supports the process of growth and cognitive development. It can be hard for young children to get enough iron from their diet alone, especially if they are "picky eaters" — so having a blood test done during a toddler's yearly check-up can identify an iron deficiency before it becomes a bigger problem.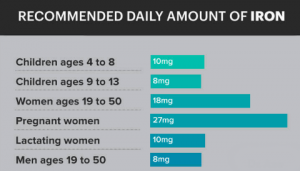 Recommended Daily Amount of Iron (7)
Children ages 4 to 8: 10 milligrams
Children ages 9 to 13: 8 milligrams
Men ages 19 to 50: 8 milligrams
According to the CDC, "iron deficiency is seen most often between six months and three years of age due to rapid growth and inadequate intake of dietary iron. Identify if iron supplementation might be needed." Infants and children are at a heightened risk for an iron deficiency if they're born small or premature, are given cow's milk before their first birthday, are formula-fed instead of breastfed, and if they consume more than 24 ounces of cow, goat or soy milk per day.
Breast milk is believed to contain highly bioavailable iron, but in amounts that are not sufficient to meet the needs of infants older than 4–6 months. Therefore, the NIH recommends that babies begin to eat solid foods that are naturally rich in bioavailable iron or to eat iron-fortified foods or formula as soon as they can.
Women who are pregnant also need more iron than the general population, so it's recommended that they take iron as part of a pre-natal vitamin complex. Finally, anyone who has lost blood due to a recent surgery will also want to supplement with iron to prevent signs of an iron deficiency.
With gratitude and copyright credit to Dr. Axe – https://draxe.com/iron-deficiency/